Custom Pool Table Felt
$499.00 – $1,649.00
The (STANDARD) Custom Pool Table Felt is good for the casual/recreational player. Felt has a stain resistant coating.
The (PROFESSIONAL) Custom Pool Table Felt is a worsted felt with stain resistance.
Free Colored Cue Chalk with your order (12 cubes)
FREE SHIPPING!
Description
Step-By-Step On Ordering A Custom Pool Table Felt
Color Selection
Before ordering, determine what colors that you would like for your background and rail felt. Our custom pool table felt starts off white, and we print the background and logo colors directly onto the pool table cloth. We print with option of CMYK and Pantone colors. If you need help in determining a particular shade of a color, click on the Color Chart Picker button below.
You are not limited in the number of colors for your design. Your custom designed pool table felt can have 1 color or 100 colors. We are able to print with gradients, watermarks, and bright colors. The only colors that we can't print are metallic colors.
Pool Table Size
We produce the artwork for your custom pool table felt based on the size of your billiard table. We have provided a chart below to determine the size of your billiard table. When you place the online order, we will need to know the size of the table that you have.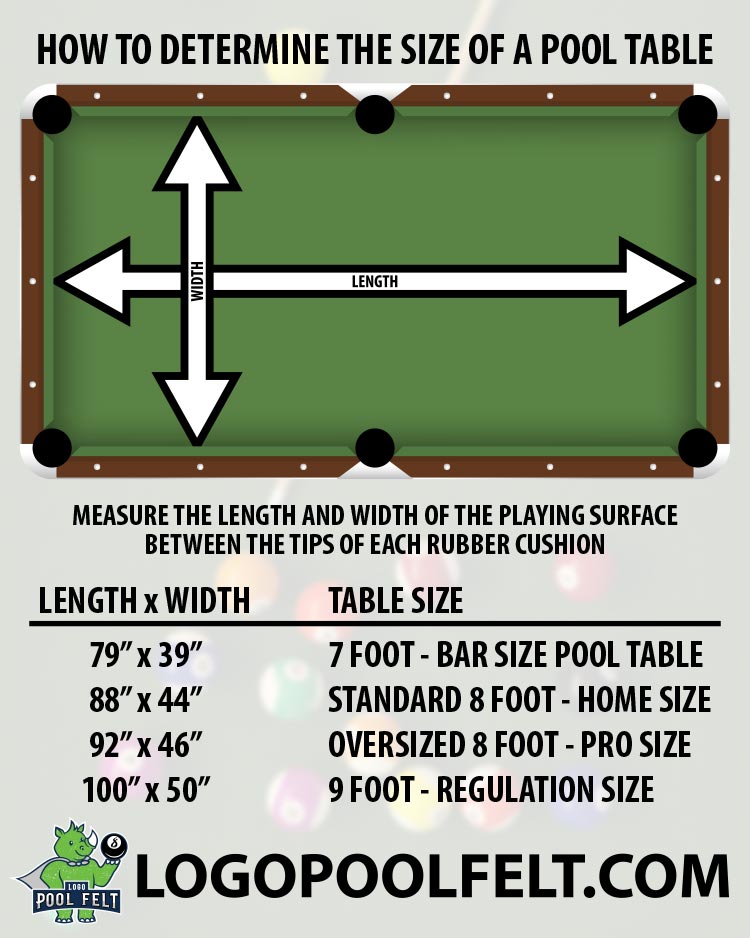 ---
Type of Pool Felt
We offer two types of custom pool table felt for you to select based on your budget and end use of the custom cloth. We have our standard pool table felt and our professional pool table felt. The custom designs won't interfere with the playability of the game or interfere with the roll of the balls. Both options include the custom or matching color rail felt.
---
STANDARD Pool Felt
Our first option is our standard or what we call our home/recreational felt. It is 18oz polyester based pool felt that has a Teflon ant-friction coating. The felt has a stain resistant coating to protect against unwanted spills. It offers excellent print capabilities via a dye sublimation process.
The standard felt is best suited for the casual pool player, and is ideal for pool tables that are in the home and not in public locations. This felt option suits 80% of our customers. The custom designed pool felt will be delivered within 2-3 weeks and includes free shipping via UPS/ FedEx Ground shipping.
We are able to offer a faster turnaround time of 1 week for an additional $150 for expedited production plus an additional cost of $145 for overnight shipping in the continental US.
PRICING (Standard)
7 foot/8 foot $499.00 Delivered
9 foot $539.00 Delivered
---
PROFESSIONAL Pool Felt
We offer custom designs printed on a professional worsted pool table felt. The billiard cloth is a worsted blend of 70% Merino wool and nylon. It is a tournament grade premium pool table felt that is ideal for competitive play and for pool tables in public places such as pool halls, sports bars, apartments, and university student centers. It's treated with a stain resistant coating to protect against spills and stains. The typical delivery time is 9 weeks after approval of the artwork. We are not able to offer any expedited rush options. Free shipping includes 2nd day air ship when completed.
PRICING (Professional)
7 foot $1,599.00 Delivered
8 foot $1,599.00 Delivered
9 foot $1,649.00 Delivered
---
Large Quantity Orders
We now offer a great discount on volume orders of 10 for our professional pool table felts. Order 10 custom professional felts of the same design for $525 each. This is $5,250 delivered! If you run a multi-location sports bar, pool hall, or apartment complex this is a great deal!
Please call (615) 566-9112 or Contact Us to take advantage of this offer!
---
Artwork Submission
We prefer to have the logo or artwork in a high resolution format such as EPS or AI. We are able to sometimes use PDF files. JPEG and PNG files pulled from Google Images rarely work! Those are very low resolution designs that become very pixelated when we increase the size of the design on the felt.
We are able to use pictures taken with a camera setting for high resolution. Picture or JPEG images are best when saved at 120 dpi at the end size.
If you are unsure, email us what you have available. We will let you know whether or not it is usable. You have the ability to upload the logo via the contact page.
Read the instructions for how to prepare a graphic file here in PDF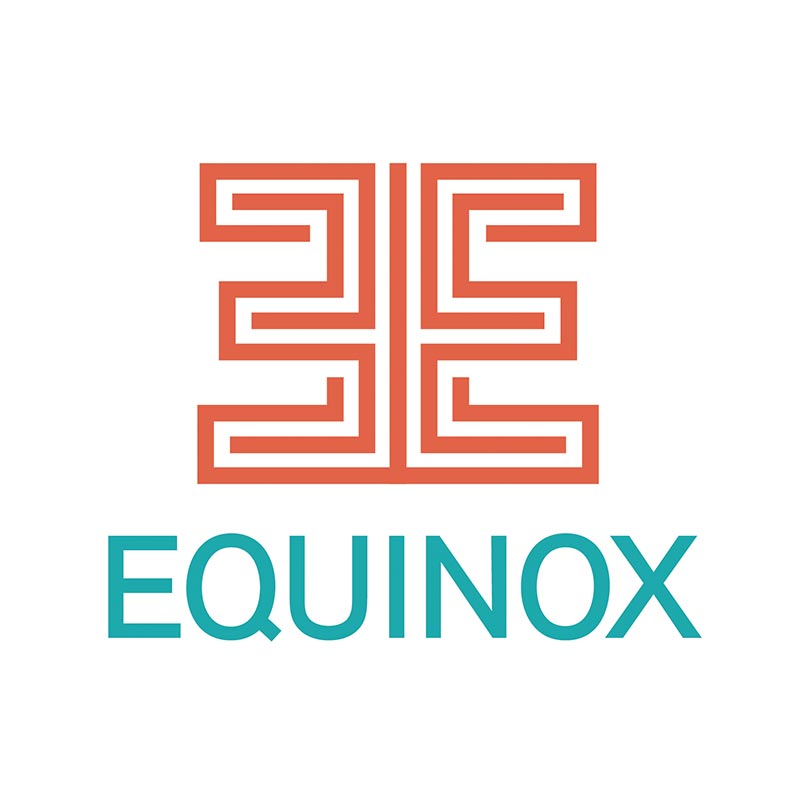 Artwork Proof
We typically will provide a mock up design for your custom pool table felt within 1-2 business days. This may be longer based on the complexity of the artwork. Once we provide a proof, please review carefully. Look for any grammatical errors. The colors on the proof will be close to the colors on the custom printed felt. Please keep in mind that the colors on your computer monitor are brighter than the colors on a printed billiard felt. We are not responsible for colors that don't match perfectly. This is very rarely an issue! If color match is critical, we are able to produce and ship a small printed sample of the standard felt for $40.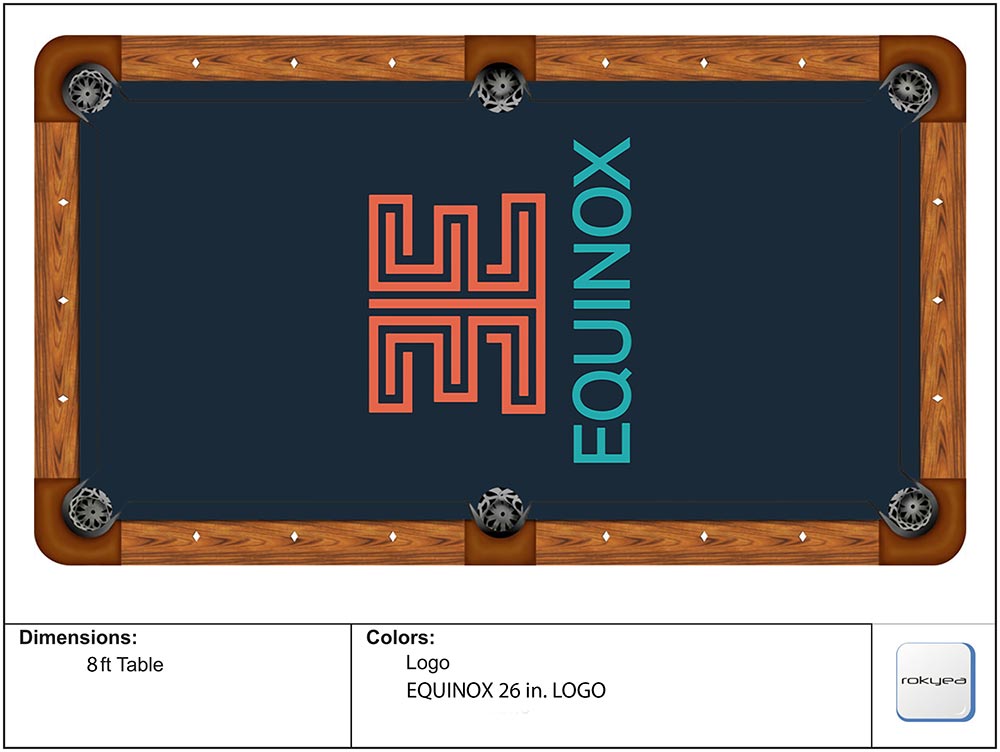 ---
Logo Pool Felt Shipping
Once the artwork is approved, we will start production on your custom pool table felt. At this point, we won't be able to make any design changes or stop the production process. The shipping cost is included in the cost of the felt. We will provide you with a tracking number via email when your order is shipped.
Included with your purchase will be matching color cue chalk. We will match the best available chalk that we have with your custom design. The 12 cubes of chalk will ship and arrive separately from the custom felt.
We ship worldwide! Email us for an International Shipping Quote.
---
Billiard Felt Installation
We recommend that the custom pool felt be installed by a professional. We do not include the installation with the purchase of a custom felt. There are typically several options to choose when looking for an installer in your area. The best option is to Google "pool table installation" for the city that you are located. The big box stores are typically the best option, but do cost more than an independent installer. Installation costs vary from city to city, but the average would be around $250 to $350. If you purchased a pool table, there shouldn't be an additional installation cost for adding a custom pool table felt. The installer will add the custom felt when he/she sets up and installs the pool table.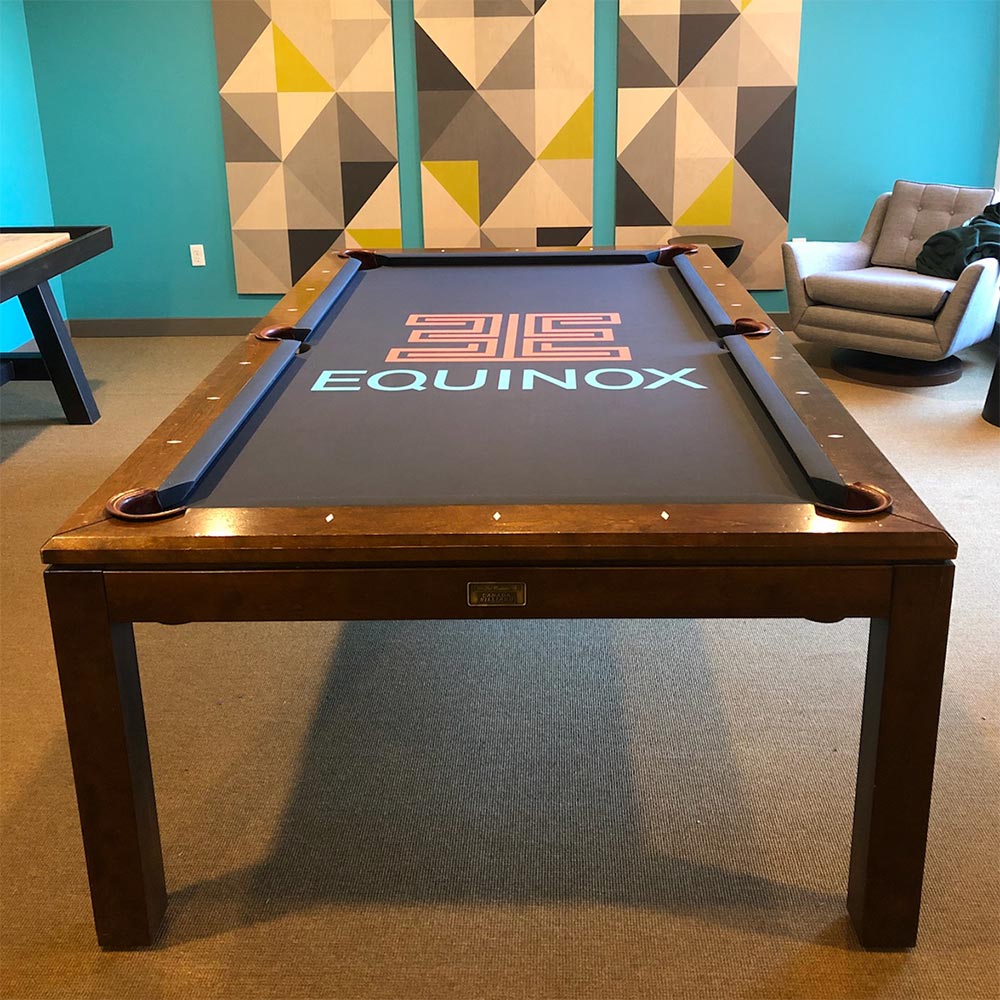 Additional information
| | |
| --- | --- |
| Quality | Standard, Professional |
| Felt Size | 7 foot, 8 foot, 9 foot |